When does a start-up shoe brand stop being a start-up?
Today we catch up with a 3-year-old start-up brand and client of Shoemakers Academy, Soléi Sea. Four women, friends since college, started this sandal brand together in 2020. Facing setbacks during the Covid pandemic and eager to invest their time and efforts into their brand and vision, they pooled their talents to launch and run Solei Sea.
The women at Solei Sea started with a vision to reinvent a timeless classic. They believed the flip-flop—a minimalist, utilitarian design at heart—could have so much more sole. They imagined a new sandal design that would combine comfort and style. The team contacted "The Shoe Dog" at Shoemakers Academy with their vision. "The Shoe Dog" worked with Solei Sea on their sandal design, development, sourcing, inspection, shipping, import duty rules and regulations, and ongoing consulting as needed.
The Soléi Sea team invested heavily in their shoemaking education. They took the time to make an in-depth study of the shoe business. With the help of the Shoemakers Academy All Access Pass for the full curriculum of online shoemaking courses, they built a real business plan to guide their journey.

So, how are they doing 3 years later? Well, pretty good, actually, really good! Cofounder Andrea Motawi recently told us, "It has been three years of hard work and a steep learning curve for our team and with our manufacturing partners. We are very proud of what we've created, growing our retail reach exponentially year after year. We believe in our brand, ourselves, and the comfort and style of our product."
The Soléi Sea team has faced all the typical challenges that can trip up a new shoe company. Product development was a big challenge early on. Solei Sea is committed to making their flip-flop sandals more comfortable than others on the market and stylish enough to wear day and night for any occasion. They needed "The Shoe Dog" and his design and development partners to help them get their ideas across and offer them sourcing and material options for the elevated comfort and fit they were aiming for in their high-end flip-flops.
Another challenge on their plate was timing. In the USA, brands must deliver sandals to the retail market in Q1. The Solei Sea product for Spring sales needs to be in stores by March. Faced with shipping and development deadlines (and more excessive delays related to COVID-19), the team agreed they needed to air freight a lot of the first production run, or they would miss introducing their product for Spring and Summer sales. As a general rule, if you airship your footwear product from China to the USA, you have just handed your profit margin off to the shipping company. Yes, it's that expensive!
Luckily for Solei Sea, their sandals hit the market on time, and they quickly started building their network of retail boutique stores and online sales at SoleiSea.com. If they had waited for the ocean shipment to arrive, there's no doubt that they would have lost their Spring and early Summer sales. They made a courageous, maybe even foolhardy, product strategy decision, BUT it worked. Profits on the first production were nearly zero. But, the brand was in stores, selling well and, more importantly, getting reorders and setting the stage for rapid growth in upcoming seasons.
Like many self-funded start-up shoe brands, the crew at Solei Sea quickly faced a cash flow problem. The shoes were selling fast—new production orders with large deposits consumed all the available cash, plus thousands of dollars more.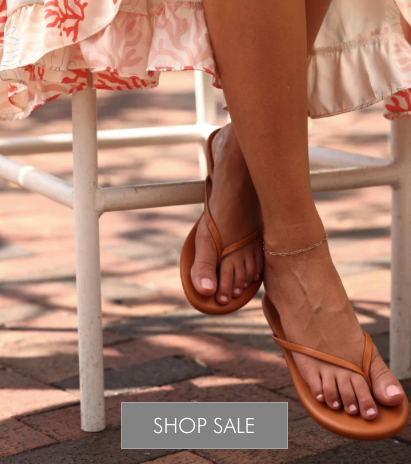 Product inventory and cash flow are critical to keeping your momentum; selling out means missed profits and opportunities. The year two blues included finding a way to finance product inventory AND sales and marketing spend. The Solei Sea team used credit cards, a revolving line of credit, and an additional infusion of investor seed money to keep on their fast growth trajectory. Did they have some dark days? Yes, they did, but they kept on pushing. They succeeded in year two with a 40% increase in gross sales and raised money without diluting their ownership stake.
Year three brought a new set of growing pains. More sales mean more shoes and significant logistical challenges. Overflowing garages, extra storage units, and slow shipping hurt their customer service goals. On their way to doubling the business, shipping from home and running the business off an Excel spreadsheet would take much more work. The team had to upgrade their internal operations calling in more professional help to build an item master, shipping and inventory control systems, and finally make a move to a warehouse.
What a full plate! Among the craziness, they found time to introduce 3 new product lines, improve product quality, and expand their product supply chain to China and Brazil. Yes, the back office operations can take up your time, but you must focus on your customer needs and footwear trends.

The Soléi team recently took a huge step forward by bringing in a new partner—a part-time creative director to help with design, product management, and branding. The product line, website, social media, packaging, and overall brand image will now get a fresh and elevated new look while operation headaches fade.
Is it working? Yes, it is. The Soléi Sea product line looks great, the brand presentation is clear, customer orders (and reorders) are growing, and profit margins and quality have both improved. The smoother back-end office operations have also enabled Solei Sea to grow into larger retailers.
Did we mention their sandals got picked up by a distributor in Japan and also a huge online retailer? More on that to come.
Stay tuned for the next Solei Sea brand update.

Are you ready to supercharge your footwear career? With our exclusive All Access Pass, you'll unlock the full potential of Shoemakers Academy's online courses. Gain complete access to our extensive catalog.
140 shoemaking lessons and over 40 hours of expert video instruction from none other than "The Shoe Dog" himself. Grab the All Access Pass and fast-track your way to success in the dynamic world of footwear!