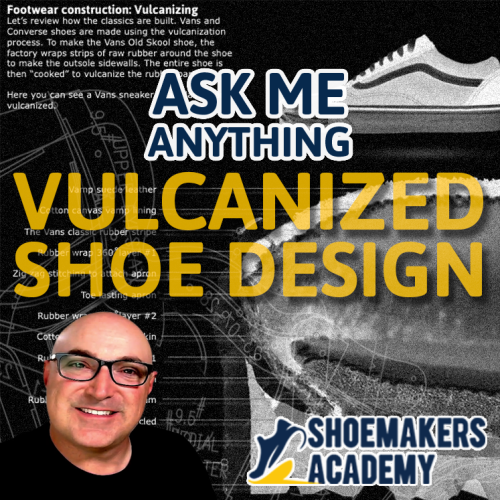 How To Design Vulcanized Shoes
Date:
Thursday, September 21,  2023
Time: 
6pm – 7pm : Los Angeles
9pm – 10pm : New York
Walk through the basics of vulcanized shoe construction.
Discuss the best materials for vulcanized shoes (ones that won't melt!).
Learn the difference between Vans and Converse vulcanized constructions.
Get answers to recent questions like:
"Why can't I use an EVA midsole?"
 "How do I make comfortable Vulcanized shoes?"
Register Now to Receive the Zoom link!
What is your question? Ask "The Shoe Dog!"
Email your questions today!
Check out more on How Converse All Stars Are Made In the Free Resources Blog:
In the Converse vulcanized shoemaking process, the soft white rubber shoe outsole parts are attached to the shoe upper before the rubber is heat cured. With the sole parts attached, the entire shoe must be heated in a vulcanizing oven. The shoe is heated to around 170˚C  – that is over 300˚F! The heat required to vulcanize the rubber sole can melt nylon and polyester fabrics.
Watch "The Shoe Dog" on YouTube: Vans Vs. Converse Vulcanized Shoe Construction
Advance Your Footwear Design and Construction Skills.
Led By The Industry Veteran, Wade Motawi, This Online Event Guarantees Valuable Insights And Expertise Gained From His Extensive 25 Years Of Experience In The Shoe Industry. Wade Motawi's Passion For The Craft And Dedication To Excellence Make Him The Perfect Guide To Help You Take Your Footwear Brand Building And Design Career To New Heights.
Days
Hours
Minutes
Seconds
Start Time

September 21, 2023 - 6:00 pm

End Time

September 21, 2023 - 7:00 pm

Email

TheShoeDog@ShoemakersAcademy.com